Mama Tee 'Nothing Impossible' Ft. E-Series
Mama Tee 'Nothing Impossible' Ft. E-Series
Mama Tee returns with a remix to her prophetic song "Nothing is Impossible" feat. E-Series aka Emmanuel Chukwuka.
The feature came about after he surprised Mama Tee and friends with a cover of the song. When asked why he chose to cover this particular song originally done by Mama Tee featuring Awipi and Rume, he said it was because he had been listening to it repeatedly and it blessed him. Mama Tee was so touched and in awe of the cover, she asked him to do a full song. E-Series did just that by delivering a powerful soulful rock version of the song.
Mama Tee Delivers a powerful song 'Nothing is Impossible' Feat. (E-Series)
Real name Emmanuel Chukwuka, E-Series hails from the Delta state – of Nigeria. He started playing musical instruments at a very young age of 10. Later on, he started singing in the children's choir. He has since gone on to release his debut album in October 2021. He wrote, sang and produced the project. E-Series continues to hone his craft as a songwriter, singer and producer and it's evident with this remix.
Mama Tee wants the message to sink in that with God all things are possible! Believe that He is not a man that He shall lie! Everything that He has said concerning your life will come to pass. He is the only one that will never let you down.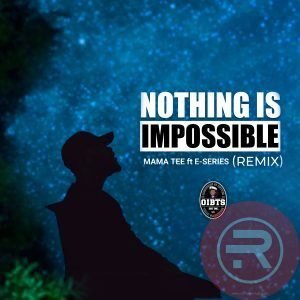 "Nothing is Impossible" Remix is available on all digital platforms now;
Joshua Daniel Delivers a Powerful song 'Holy Spirit'
[button color="red" size="medium" link="https://distrokid.com/hyperfollow/mamatee/nothing-is-impossible-feat-awipi–rume-live-" icon="" target="false" nofollow="false"]DOWNLOAD NOW![/button]
Mama Tee 'Nothing Impossible' Ft. E-Series
LYRICS
Verse:
All those we trust in may fail
But on your word, we can rely on
Cause we know that you're too faithful to fail
I can be faced with my fears,
And legions of problems surround me
But I will not fret
And I will not be moved ( I will not be moved)
Cause I know…
Nothing is impossible with my God x 9
Bridge:
With God all things are possible I know, I know for sure that nothing is impossible yeah…
Credits:
Lyrics are written by Tolu Adeosun (Mama Tee and Emmanuel Chukwuka ( E-Series)
Visuals by ND Godwin
Audio mixed and mastered by Uzzie
Mama Tee 'Nothing Impossible' Ft. E-Series
Connect with him on Instagram:
https://www.instagram.com/u_zzie/
Connect with E-Series on Instagram:
https://www.instagram.com/eseriesofficial/
https://twitter.com/iameseries
Link to E-Series YouTube channel:
https://youtube.com/channel/UCBNaRCIRR9awUUrxOJapJMQ
Connect with Mama Tee on Instagram:
https://www.instagram.com/oibtsentinc/
https://twitter.com/tolu_adeosun
Mama Tee 'Nothing Impossible' Ft. E-Series